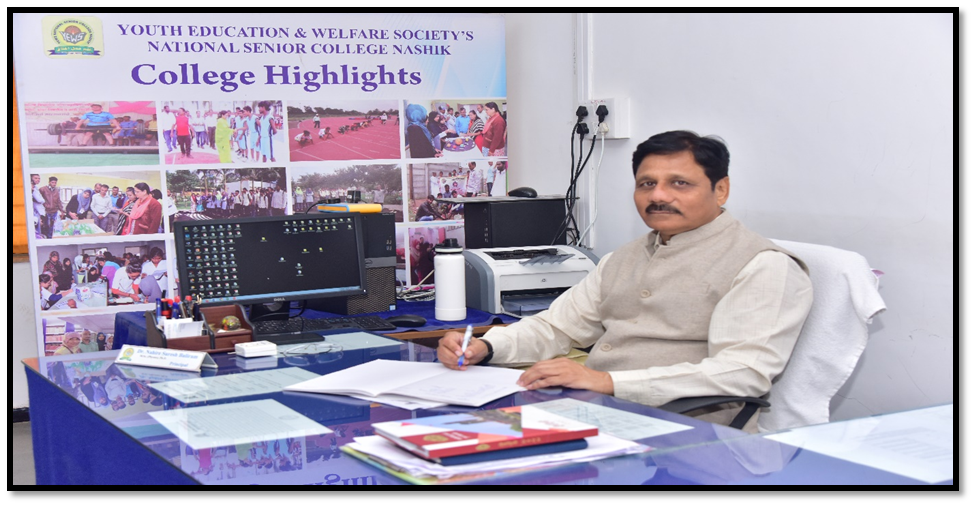 "A teacher is a compass that activates the magnets of curiosity, knowledge, and wisdom in the pupils." - Ever Garrison
Dear Students,
We at The YEWS National Senior College of Higher Education firmly believe in our motto, "Knowledge is power", and we take all possible actions to ensure that the process of knowledge sharing among all stakeholders is continuous and evolving. The institution provides multiple avenues for the teachers to upgrade and update themselves, along with opportunities for the students to grow and develop academic and professional skills. For achieving this, we have invested in the best possible infrastructure, integrating chalk-and-talk methods of teaching with ICT-based methods of education. We believe in preparing our teachers and students to be ever-ready to adapt to the changing dynamics of the educational systems. The pandemic obstructed the traditional method of lecture delivery, but it did not obstruct the spirit and passion of our teachers, who were ready to smoothly switch to online methods of teaching and learning. Simultaneously, the college has also organized various webinars for the students to upgrade their skills and utilize their free time productively. As they say, change is the only constant, hence, we need to be prepared to face all changes that may come in our way and emerge successful. In the era were Artificial Intelligence, IoT, and Big Data are making rapid strides toward changing the world, teachers need to think one step ahead to be able to guide and encourage students who are going to be the next generation of professionals. In a world where phones and televisions are becoming smart, teachers have to be smarter if they want to keep their students engaged and interested in the teaching-learning process.
The college ensures the overall development of the students through different academic as well as co-curricular activities in sports and cultural events. Our students have participated in various activities at the zonal, university, regional, and national levels and have bagged many prizes. The strong community involvement and a commitment to social service through NSS and value-added programs provide each of our students with an avenue for personal growth. Student-centric activities conducted by various departments and colleges update the students with the current knowledge. Well-qualified teaching staff, efficient non-teaching staff, locational advantage, spacious classrooms, digital classrooms, eco-friendly campus, gymkhana, playground, well-equipped library, and laboratories have been a major support for us to keep pace with the latest curriculum.
The Guest invited scholars, and parents who come to the college are impressed by the positive, friendly, and purposeful atmosphere that they experience here. This comes from the warm and respectful relationships between staff and students, creating an inclusive learning community in which each person is valued and encouraged to achieve their full potential.
Best Wishes!
Dr. S. B. Nahire