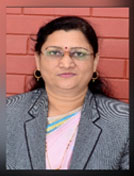 Asst.Prof. Ranjana Mahajan
(Incharge Principal)
It gives me a great pleasure to invite you. College was established in 2007 by Youth Education and Welfare Society (YEWS), Nashik to impart higher education to youngsters, which is a very significant, potent and conscientious task.
Dear students, welcome to, Nashik and I thank you for your academic interest in this institution. College has recorded one decade of constant development, in the course of which it has accomplished much, making it one of the minority colleges and being accepted for not only its excellence but also achievements. Therefore, college is much sought after by the fresh candidates. Happily brings together sound academic achievement with extensive, vibrant, co-curriculum programmes that includes sports, seminars, competitive coaching etc. Altogether it strives to be academically rich by formal and informal learning, stimulating. Motivating and engaging students.
YEWS National Senior College has forged ahead with a mission to hone and integrate the personality of every student under its fold. It is our aim to help students achieve a level of excellence and attain a goal hitherto unexplored. Together we will have to work hard and sincerely move along to reach high for the star lying hidden in your spirit and soul. We inculcate the love for the knowledge in our students and, for this; we aim to develop the skills and attitude of lifelonglearning, essential for making sensitive, caring, committed and responsible citizens. This will make our students immensely capable of facing the future with resilience and optimism. On the dipper level, we tried to instill the values of discipline, respect, integrity and trust in human relationships that are the foundation of success in career and professional life.
At YEWS National Senior College thus, we believe that student should be imparted an all round education so that they become multi-dimensional. Be believed in providing our students a pleasant atmosphere rich in knowledge and supportive with strong platform to elevate them further. Thus education is a wholesome, holistic exercise and as such we strive to give an entire new meaning to the role of education in the development of individual, society and nation. Coupling this very basic premise with the idea of sense of belonging to one family-the family –we look at ourselves as "care givers''. We care for the mind- ours is a sterling academic institution, we care for the students- the accent is on the all round development of students.
We wish you all the best in the process of seeking to become a part of this college. We assure you of a nurturing and caring environment that we see all of you blossom into empowered and sensitive human being to contribute to society and nation.